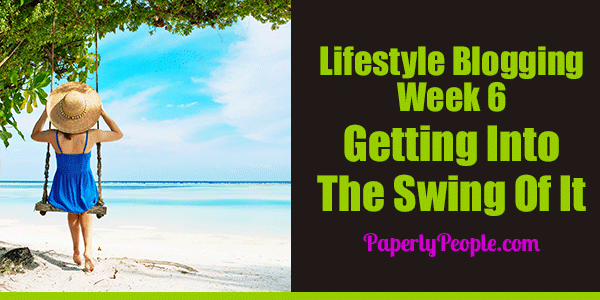 This is my 6th week as a lifestyle blogger and I am just now starting to feel like I am getting into the swing of it! I am feeling like everything is generally up and running and that I have at least a foundation to work from.
This week I added two forms to my store and published 4 posts across my blogs that were at least somewhat related to productivity and forms. I am really thinking that I need to write a post somewhere about how to leverage what you already know how to do when you are starting out.
With the exception of the Twitter debacle (more about that later) my biggest satisfaction has been using my blogs and just writing, which is my passion anyways. Additionally I like to make forms and the systems behind them that will help people do better in their work!
I have been sharing my forms in person with coaching clients and they LOVE THEM! This gives me such a warm fuzzy feeling knowing that I am headed in the right direction.
Now just patience is required to let these things grow!
PS – The Terrible Twitter result.
I have been marketing on Twitter for years now with my Taradactyl account and I get great results from adding followers or promoting a post. That said, using the PaperlyPeople account  was a total debacle. I have been building up my Twitter peeps by following every day, adding 5-10 each day.
Paid marketing with Twitter cost $10.00 for a week, I got 8 followers and paid $1.25 for each one. Holy cow, that is terrible! I can get 8 followers for free just by following a passel of people myself.
Not sure the difference between what I am doing on the Taradactyl Twitter and the PaperlyPeople Twitter, but cannot afford to pay that much per follower for sure.
I really would like to do some kind of paid advertising so I will be check out other options that I can use.
Day 42 8/17/2015
Email list – 3
Klout score – 53
SOCIAL COUNTS
Twitter – 445 (+23)
Facebook – 21
Pinterest – 26 (+3)
Tumbler – 32 (+1)
Instagram – 107 (+2)
Pageviews PaperlyPeople.com – 604 (+14)
Keywords Ranked In Google – 1
YouTube Subscribers – 5
YouTube Views – 115 (20)
Orders – 0
Uploaded product – 0
Pageviews Etsy store – 32
Favorites – 1
Day 41 8/16/2015
Email list – 3 (+1)
Klout score – 53
SOCIAL COUNTS
Twitter – 433 (+6)
Facebook – 21
Pinterest – 23 (+1)
Tumbler – 31 (-1)
Instagram – 105
Pageviews PaperlyPeople.com – 590 (+14)
YouTube Subscribers – 4
YouTube Views – 95
Orders – 0
Uploaded product – 0
Pageviews Etsy store – 28
Favorites – 1
Day 40 8/15/2015
Promoted daily planner post from PP
Email list – 2
Klout score – 53
SOCIAL COUNTS
Twitter – 427 (+27)
Facebook – 21
Pinterest – 22 (+2)
Tumbler – 32 (+1)
Instagram – 105 (+2)
Pageviews PaperlyPeople.com – 576 (+16)
YouTube Subscribers – 4
YouTube Views – 95 (+1)
Day 39 8/14/2015
Etsy
Orders – 0
Uploaded product – 1
Pageviews Etsy store – 44
Favorites – 0
Day 38 8/13/2015
Email list – 2
Klout score – 53 (+1)
SOCIAL COUNTS
Twitter – 400 (+10)
Facebook – 21
Pinterest – 19 (+4)
Tumbler – 31
Instagram – 103 (+1)
Pageviews PaperlyPeople.com – 559 (+48)
YouTube Subscribers – 4 (+1)
YouTube Views – 94 (+8)
Orders – 0
Uploaded product – 0
Pageviews Etsy store – 51
Favorites – 3
Day 37 8/12/2015
Published my fourth week as a lifestyle blogger post – https://paperlypeople.com/my-fourth-week-as-a-lifestyle-blogger-the-etsy-store-week/
Twitter ad results – did a video post on papery twitter – promoted for followers $10.00 total (had 285 when started – ran for 8 days) – they declined to use my video post so I set up two different regular tweets to go out… I paid $10.00 for 8 follows and spent $1.25 per follower. That was a TERRIBLE result!
Sent out link to Etsy store in Tuesday Tools Newsletter
Twitter – 390 (+6)
Facebook – 21
Pinterest – 15 (-2)
Tumbler – 31
Instagram – 104 (+1)
Day 36 8/11/2015
Email list – 2
Klout score – 52
SOCIAL COUNTS
Twitter – 384 (+13)
Facebook – 21
Pinterest – 17
Tumbler – 31 (+2)
Instagram – 103
Pageviews PaperlyPeople.com – 511 (+30)
YouTube Subscribers – 3
YouTube Views – 86
Etsy
Orders – 0
Uploaded product – 1
Pageviews Etsy store – 42
Favorites – 1
Favorited Shops – 2
Favorited Products – 2
Follow my journey… check out last week's post, My 5th Week As A Lifestyle Blogger – The Blogging Week