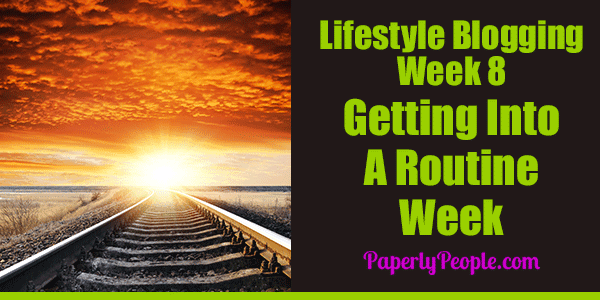 I have settled into a routine of posting two posts a week to my lifestyle blog, one on my progress and one keyword targeted. Next week is Labor Day week so I am not going to change anything, but it feels like I would make more progress if I would post more, so I will.
The Etsy Treasury Box plugin for Chrome was BRILLIANT and I have been making treasuries semi regularly and notifying the people I included. I feel like this is a great way to get one-on-one conversations started!
Last but not least I have obsessively started tracking the number and words ranking in Google. I use RankTrackr to do this (it can seem like an un-needed expense but it is SO worth it to know which terms you rank for).
Day 56 – 8/31/2015
Email list – 3
Klout score – 54
Twitter – 576 (+20)
Facebook – 33 (-1)
Pinterest – 24
Tumbler – 34 (-1)
Instagram – 119 (-1)
YouTube Subscribers – 7
YouTube Views – 160 (+13)
Blog
Pageviews PaperlyPeople.com – 519
Keywords Ranked In Google – 8
Etsy
Orders – 0
Uploaded product – 0
Pageviews Etsy store – 51
Favorites – 0
Day 54-55 8/29-8/30
Day 54 – 8/29/2015
Email list – 3
Klout score – 53
Twitter – 559 (+3)
Facebook – 34
Pinterest – 24
Tumbler – 34 (-1)
Instagram – 120
YouTube Subscribers – 7
YouTube Views – 147
Blog
Pageviews PaperlyPeople.com – 534
Keywords Ranked In Google – 7 (-1)
Etsy
Orders – 0
Uploaded product – 0
Pageviews Etsy store – 56
Favorites – 0
Day 53 – 8/28/2015
Email list – 3
Klout score – 53
Twitter – 556 (+6)
Facebook – 34
Pinterest – 24
Tumbler – 35
Instagram – 120
YouTube Subscribers – 7 (+1)
YouTube Views – 147 (+3)
Etsy
Orders – 0
Uploaded product – 0
Pageviews Etsy store -65
Favorites – 4
Day 52 – 8/27/2015
Email list – 3
Klout score – 53
Twitter – 550
Facebook – 34 (+2)
Pinterest – 24
Tumbler – 35
Instagram – 120 (-1)
YouTube Subscribers – 6
YouTube Views – 144 (+7)
Blog
Pageviews PaperlyPeople.com – 551
Keywords Ranked In Google – 6 (+1)
Etsy
Orders – 0
Uploaded product – 1
Pageviews Etsy store – 60
Favorites – 6
Day 51 – 8/26/2015
Posted on MA (promoting Realtor Blog Listing Worksheet)
Email list – 3
Klout score – 53
Twitter – 550 (+8)
Facebook – 32 (+6)
Pinterest – 24
Tumbler – 35 (-1)
Instagram – 121 (-2)
YouTube Subscribers – 6
YouTube Views – 137
Etsy
Orders – 1
Uploaded product – 0
Pageviews Etsy store – 76
Favorites – 6
Day 50 – 8/25/2015
Email list – 3
Klout score – 53
Twitter – 542 (+6)
Facebook – 26 (+4)
Pinterest – 24 (+2)
Tumbler – 34
Instagram – 119
YouTube Subscribers – 6
YouTube Views – 137
Blog
Pageviews PaperlyPeople.com – 569
Keywords Ranked In Google – 5
Etsy
Orders – 0
Uploaded product – 0
Pageviews Etsy store – 63
Favorites – 0
Want more? Check out last week's post, My Seventh Week As A Lifestyle Blogger – Holy Cow I Posted A Lot Of Forms Week