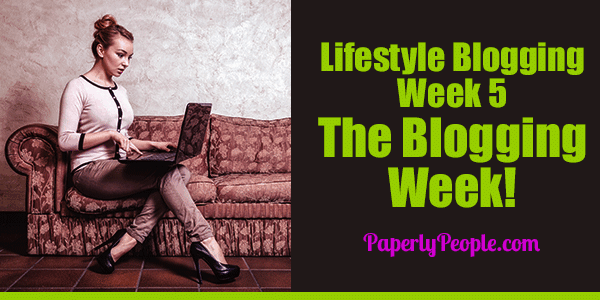 It may seem weird that I am only talking about blogging in week five of my journey as a lifestyle blogger, but really it is not. I see MANY people launch a blog all excited and announcing it to world, only to change direction or stop altogether after a few weeks. It is because of this that Google will not really start ranking your site highly until you have some time (and NOT five weeks) and content under your belt.
With this in mind I just kept my head down and put fingers to the keyboard to write posts and generally get started.
I am a little different from the "normal" lifestyle blogger who is just starting out and trying to grow a network. I already have a successful blog in the marketing sector called Marketing Artfully and this week I decided that I would start using my ninja blogging skills on this site too.
I have added "blog everyday" to my list of tasks. Now this might be on Marketing Artfully or over here, but unilaterally the best way to increase your website ranking in Google is to post often, allowing you the opportunity to get more keywords.
Another thing I did was to start "pinging" my blog posts after they are published. You can do this with sites like Pingomatic.com or through your website (which is how I do it). Here is a good article about 18 different sites you can "ping" with your content.
I also added some more pages to my website including an advertising page and a policies page. Without clear links to a policies page it is going to be very hard to get your site to rank in Google. They verify that you have one of these before they will give you all the wonderful traffic that you would like to have right away.
I also share my posts on social media including my Paperly People, but also my Marketing Artfully network which has over 50,000 connections all over.
If you are reading this and thinking that you would like to become a lifestyle blogger, PLEASE do one thing for me. Be patient. Don't try to do everything the first week or two. It does not behoove you to try to get everything done right away. Instead roll out your content and marketing efforts over time.
Day 35 8/10/2015
Added advertising page
Added policies page
Added pinging list
Email list – 2
Klout score – 52
Twitter – 371 (+3)
Facebook – 21 (+1)
Pinterest – 16
Tumbler – 29 (+2)
Instagram – 103 (+2)
YouTube Subscribers – 3
YouTube Views – 86 (+3)
Etsy Orders – 1
Etsy Uploaded product – 0
Etsy Pageviews Etsy store – 65
Etsy Favorites – 2
Day 34 8/9/2015
Email list – 2
Klout score – 52
Twitter – 368 (+11)
Facebook – 20
Pinterest – 16 (+1)
Tumbler – 27 (+1)
Instagram – 101 (+2)
Pageviews PaperlyPeople.com – 481
YouTube Subscribers – 3 (+1)
YouTube Views – 83
Etsy Orders – 0
Etsy Uploaded product – 0
Etsy Pageviews Etsy store – 32
Etsy Favorites – 0
Day 33 8/8/2015
Whoo whoo! First sale from a stranger!
Email list – 2
Klout score – 52 (+1)
Twitter – 357 (+21)
Facebook – 20 (+1)
Pinterest – 15 (+2)
Tumbler – 26
Instagram – 99 (+4)
YouTube Subscribers – 2
Etsy Orders – 1
Etsy Uploaded product – 0
Etsy Pageviews Etsy store – 44
Etsy Favorites – 4
Day 32 8/7/2015
Oh my gosh got my first convo to request a custom form!
Included link to PP in Marketing Artfully's newsletter
Posted to Facebook
Did a follow friday to some of the Convome ladies
Email list – 2
Klout score – 51
Etsy Orders – 2
Etsy Uploaded product – 2
Etsy Pageviews Etsy store – 92 (oh so close!)
Etsy Favorites – 3
Day 31 8/6/2015
Email list – 2
Klout score – 51
Twitter – 336 (+4)
Facebook – 19
Pinterest – 13 (-3)
Tumbler – 26 (-1)
Instagram – 95 (+2)
Pageviews PaperlyPeople.com – 423 (+23)
YouTube Subscribers – 2
YouTube Views – 45 (+8)
Etsy Orders – 0
Etsy Uploaded product – 0
Etsy Pageviews Etsy store – 41
Etsy Favorites – 0
Day 30 8/5/2015
Posted Weekly Planner page on the socials
Wrote a time management post on Marketing Artfully (linked to Etsy shop)
Added shop now link to Facebook
Email list – 2
Klout score – 51 (+1)
Twitter – 332 (+8)
Facebook – 19 (+1)
Pinterest – 16
Tumbler – 27
Instagram – 93 (+3)
Pageviews PaperlyPeople.com – 400 (+41)
YouTube Subscribers – 2
YouTube Views – 37
Etsy Orders – 1
Etsy Uploaded product – 1
Etsy Pageviews Etsy store – 75
Etsy Favorites – 5
Day 29 8/4/2015
Email list – 2 (yay!)
Klout score – 51 (+1)
Twitter – 324 (+12)
Facebook – 18
Pinterest – 16 (+2)
Tumbler – 27
Instagram – 90 (+5)
Pageviews PaperlyPeople.com – 359 (+29)
YouTube Subscribers – 2
YouTube Views – 37
Etsy Orders – 0
Etsy Uploaded product – 0