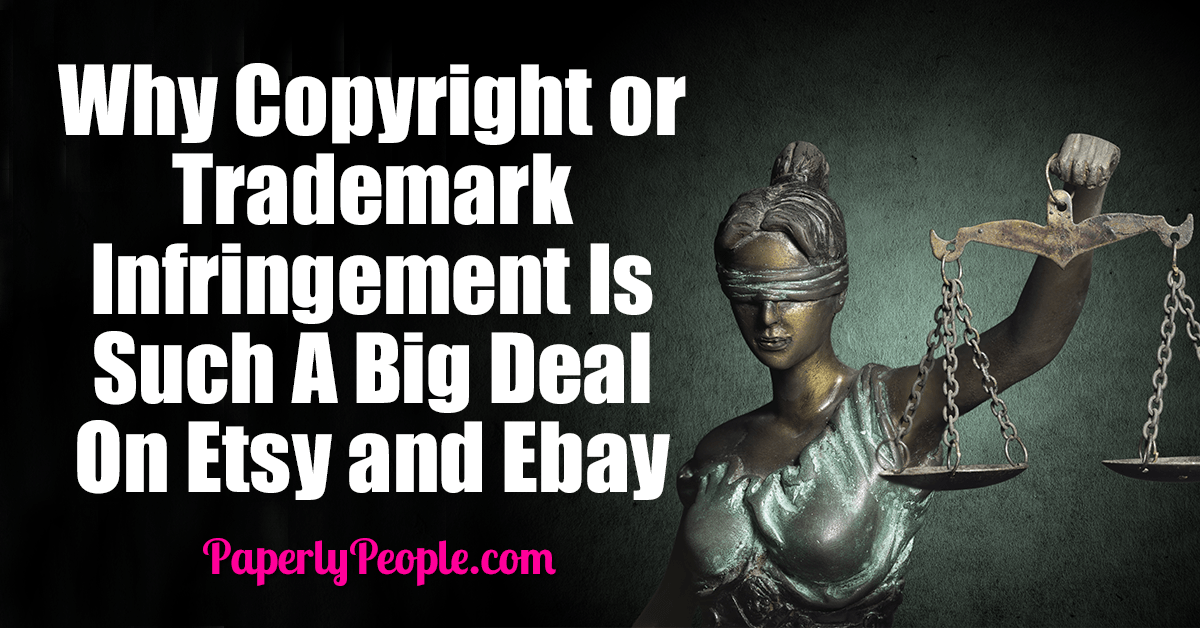 Copyrights and Trademarks, also known as Intellectual Property (IP), are rights people have to creations of the mind: inventions, literary and artistic works, and symbols, names, images, and designs used in commerce. They are used by people to protect those rights and websites like Etsy and Ebay take them seriously. They have to. If they don't they could end up in trouble under an infringement action. So sites like Etsy, Ebay, YouTube and others use a program called VeRO or Verified Rights Owner which allows the owners of IP to report those who infringe on their IP.
So what, exactly are copyrights and trademarks? Let's look at each.
Trademark
Trade or service marks are defined by the United States Patent and Trademark Office (USPTO) as any word, name, symbol, device, sound, or any combination, used or intended to be used to identify and distinguish the goods/services of one seller or provider from those of others, and to indicate the source of the goods/services. We think of them as brand names or logos. If you see a swoosh or golden arches in an M, you think Nike® or McDonalds. Trademarks are registered federally with the USPTO.
Copyright
A copyright is a form of protection grounded in the U.S. Constitution and granted by law for things like original works of authorship fixed in a tangible medium of expression. What that means is either published or unpublished literary works, dramatic works, musical works, poetry, novels, movies, songs, computer software, and architecture. A copyright protects the expression, or words that express facts, ideas, systems or methods of operation, but no the actual facts, ideas, systems, or methods of operation, although it may protect the way these things are expressed. In other words, the words that tell how to do something are protected, but not the actual idea of how to do it. The work is considered copyrighted once it is created and put on paper, typed into a computer and so on. Copyrights are registered federally with the US Copyright Office in the Library of Congress.
Neither trademarks or copyrights have to be registered to enforce protection, but having those forms of IP registered in the USPTO or Copyright Office means you can prove it belongs to you and for how long. This is important because if you say that someone has infringed on your IP, they will undoubtedly say that they were using it first. A valid defense and one that can't be disproven easily without registration.
So you put up a listing and find that it has been taken down under a VeRO report. What can you do? First, if you put up an infringing item, you should immediately NOT relist it or fight the VeRO report. But if you aren't sure there are things you can do. The report could be for a large number of reasons. If your product uses a logo that is similar enough to a registered logo to cause customers to confuse it with the registered one, it's considered infringing. If you use a logo in a description in your listing you can get in trouble. If you aren't authorized to do so by the mark owner, it's infringement. If you use text or an image that was created by someone else without permission, that's infringement. Trying to sell copies, backups, pirated, duplicated, or bootlegged copies of movies, music, books, etc. are infringing. If you aren't sure, the email you got about the report should have the IP owner's email. Contact them and ask. IP owners are under an obligation to protect their IP. If they don't they could lose their registrations and ability to protect the IP. So they may have overreacted. Work with them to see if you can edit or amend your items or works so they no longer infringe. If you can't find the contact information then contact Etsy or Ebay and ask.
Take these reports seriously
There are very good reasons why you should take these reports seriously. Making and/or selling items that infringe on another's IP carries some serious consequences.
Trademarks are protected under The Lanham Act of 1946, also known as the Trademark Act (15 U.S.C.A. § 1051 et seq., ch. 540, 60 Stat. 427 [1988 & Supp. V 1993]). It is a law passed by Congress that regulates the use of Trademarks.


The Lanham Act gives trademark users exclusive rights to their marks, along with the time and money invested in those marks. Those who break this law by infringing on trademarks face penalties that include paying the trademark owner their profits, any damages sustained by the owner (meaning the damage to their profits) and the costs of the lawsuit.
In certain circumstances you could be facing something called treble damages. Treble damages are three times such profits or damages, whichever amount is greater, together with a reasonable attorney's fee.
The United States Constitution explicitly grants Congress the power to create copyright law under Article 1, Section 8, Clause 8, known as the Copyright Clause. The Copyright Law of 1976 is codified at US Code Title 17.
Break this law and you could face penalties that include the actual dollar amount of damages and profits, damages above actual profits ranging from $200 to $150,000 for each work infringed. This doesn't sound like much, but each work infringed means each time it happened. Here is an example of how that works.
Let's say someone writes a book explaining how to create a system to make widgets, and you have written and registered 5 books with the same information. You compare that book to your 5 and find that the other author took sections of your books verbatim. The damages assigned are for each book that has been infringed each time it happened.
In other words, if that author sold 1,000 of their book, each sale infringes on 5 of yours. If the judge assesses $150,000, that means each book sold will have damages of $750,000, and 1,000 books would assess damages of $750,000,000. Even if the damages are assessed at $200, that's $1,000 per book or $1,000,000 for all 1,000. Nothing to sneeze at! There's more. The Infringer pays for all attorneys fees and court costs. The Court can issue an injunction to stop the infringing acts, and/or impound the illegal works. You could go to jail too. Definitely not worth it!
So how can you find out is something is another's IP?
Start with a Google search. Type in keywords that describe your item and see what pops up. If you want to see what, if anything, is registered with the USPTO or Copyright Office? Go to their websites. Each has search functions that will assist you in finding out. It's not easy to figure out, but even a novice can do a word search or owner search.
The USPTO's search site is found at https://www.uspto.gov/trademarks-application-process/search-trademark-database. The US Copyright Office site is found at https://www.copyright.gov/. If you want to be 100% sure, contact an IP attorney and have them do a more exhaustive search.