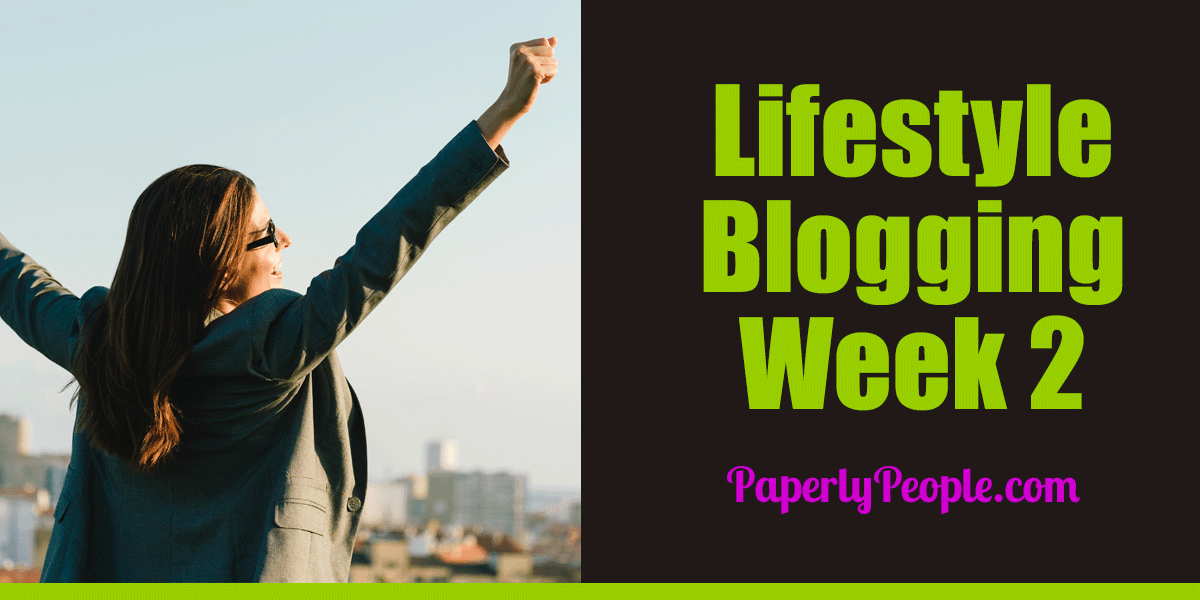 Whoo whoo…week two on PaperlyPeople.com and things are going GREAT! I have been a busy little bee doing work on my lifestyle blogging project and I just wanted to pop in and give you a quick overview of what I have accomplished.
Want to see last week? Check out My First Week As A Lifestyle Blogger
Day 8
Twitter was on my mind and I wanted to use some of my marketing ninja tricks to get some followers and get noticed by bigger accounts. With this in mind I started three Twitter lists, Publications, Vendors and Craft Shows and Events. I did this because I am a writer and speaker and one of my goals is to be featured in publications and as a conference speaker next year when I have hit this out of the park. I figure if I like and share things from my lists, people will notice and start following me more! (a quick overview of this is in the video)
I also signed up for Klout.com. Now, Klout is a little less effective since they were bought out, but some people still use this as a determining factor when noticing bloggers so it is important to focus on it! (Klout is now defunct!)
Email list – 0
Klout score (added today!) – 18
Twitter – 38 (+17)
Facebook – 6 (+4)
Pinterest – 6 (+1)
Tumbler – 5 (+1)
Instagram – 24 (+7)
YouTube – 0
Day 9
Added my first person to my email list (it is a friend but it still counts!) Right now I am not focusing on list building, my site is still too new and I wouldn't be able to manage a weekly email right now anyways.
My Klout score jumped 27 points overnight which was really neat!
Email list – 1
Klout score (+27)
Twitter – 76 (+38)
Facebook – 6 (0)
Pinterest – 6 (0)
Tumbler – 9 (+4)
Instagram – 33 (+9)
YouTube – 0
Day 10
Today was a big day for me…:) I admitted to my husband that I had started a new project. He was resigned to hearing even MORE about planners, notebooks and marketing. I could finally stop sneaking around doing fun marketing!
I posted my Pinterest to Twitter to try to get more followers
Added Resources page – it is tiny now, but good to get started with.
Applied to Scrapbooking.com's affiliate program
Added / fixed banner for Pretty Design and Stella and Dot, two affiliate programs I had been accepted to previously
Email list – 1
Klout score – 45
Twitter – 93 (+17)
Facebook – 8 (+2)
Pinterest – 7 (+1)
Tumbler – 10 (+1)
Instagram – 35 (+2)
YouTube – 0
Day 11
A super tiny day (it was Sunday), so I just did creative things that would pay off later.
Started list of art quotes
Started the line card
Picked out about 25 pictures to make quotes with pictures
Day 12
Made 3 graphics that I could use to share later
I added my Paperly posts and lifestyle blogging to MeetEdgar library. This is kinda like a Buffer or Hootsuite for pre-posting. It costs about $50 a month but since I use it for my marketing company anyways it was not a big expense for me. Buffer and Hootsuite are more in the $10 range if you are on a budget.
Email list – 1
Klout score – 46 (+1)
Twitter – 137 (+44)
Facebook – 8
Pinterest – 11(+4)
Tumbler – 13 (+3)
Instagram – 45 (+10)
YouTube – 0
Day 13
Turned down for Scrapbooking.com – thats okay, I will wait for them to come to me! I should have waited a little bit but I am used to being approved for everything. Need to slow down a little.
Duh! figured out I would put my quotes pictures on Tumblr too!
Email list – 1
Klout score – 47 (+1)
Twitter – 154 (+17)
Facebook – 8 (0)
Pinterest – 11
Tumbler – 16 (+3)
Instagram – 49 (+4)
YouTube – 0
Day 14
Email list – 1
Klout score – 47
Pageviews – 1
Twitter – 167 (+13)
Facebook – 8
Pinterest – 11
Tumbler – 20 (+4)
Instagram – 52 (+3)
YouTube – 0
Wrapup
So this week was not as sexy as the first week, but still super fun. Some of it is just cleaning bits up and seeing what still needs to be done to set up everything. I am having a blast sharing pictures on the social sites of all the planner things I am doing and can't wait to see what the next week holds!
Check out next week, My Third Week As A Lifestyle Blogger