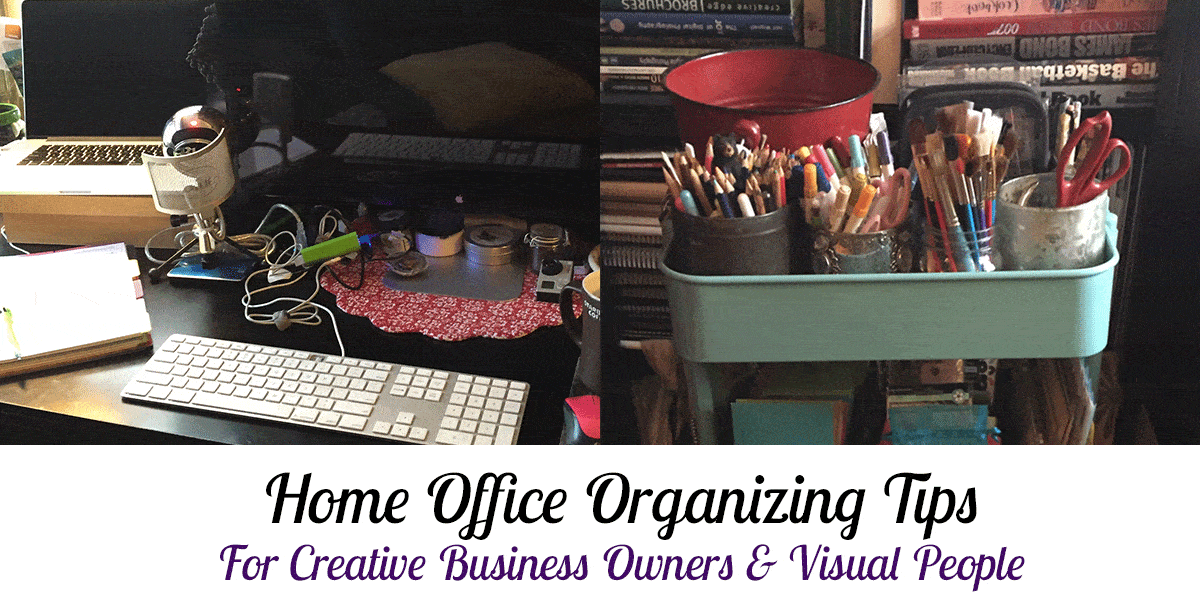 So this weekend I spent a bunch of time getting my craft supplies in order and because that area is actually my work desk area during the week, I also had to go through a bunch of work papers that I needed to look at too! Some things really came to mind as I was going through this process and I thought I would write them down for the next time you have to organize your desk.
Creative Business Owners
With more and more of us having creative businesses like Etsy stores and Ecommerce sites, creative types are hitting the business world like a storm. And the cool thing is that we are NOT like other people. "Regular" organizing systems like file drawers and folders rarely work for us (more about this later).
Instead we want to be effective with our work areas, but also be surrounded by our creative motivations!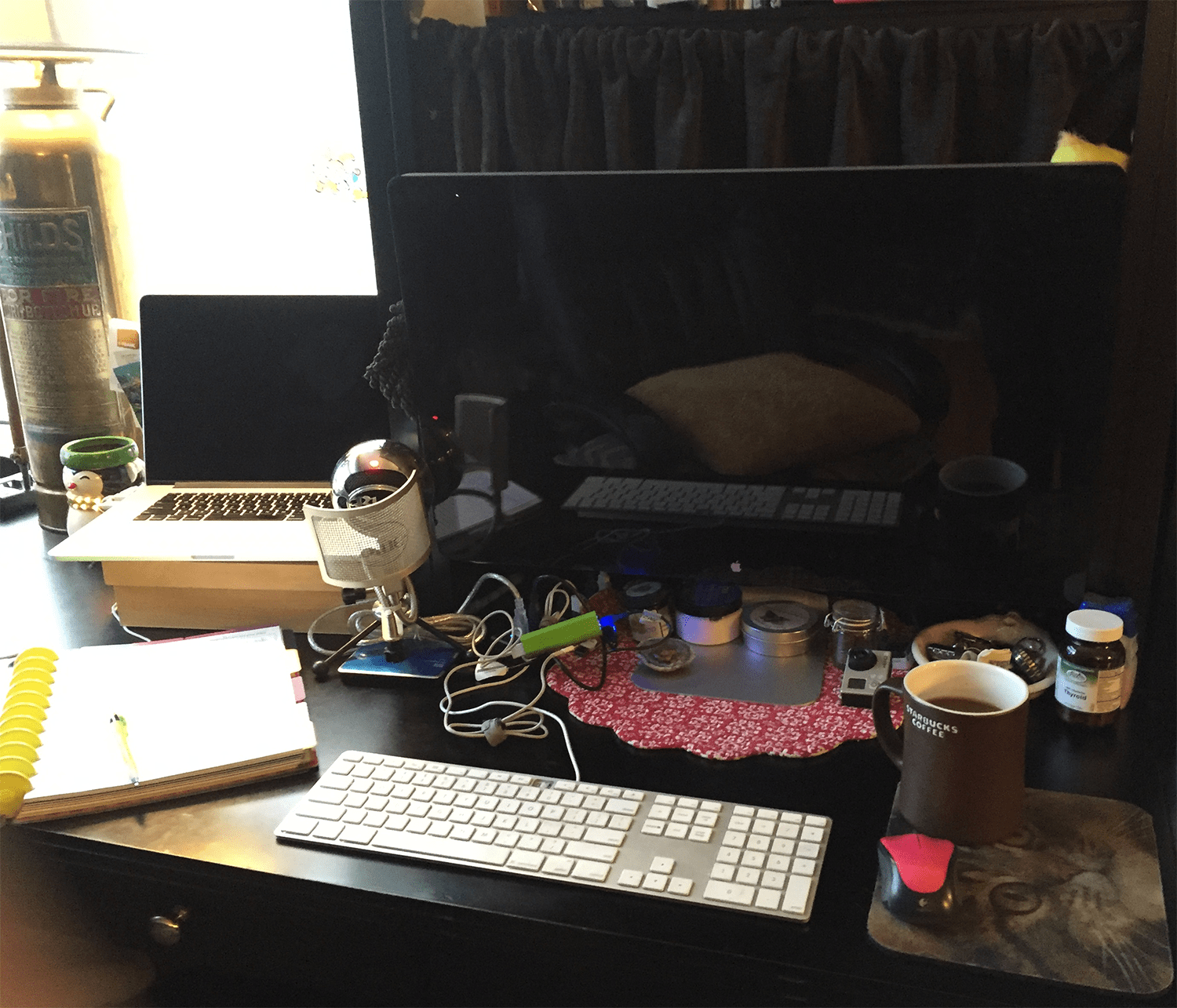 This is my "work-work area" that is about a fifth of my total creative space. It has my laptop, big monitor, business planner, phone and coffee all handy in one place. The cool thing about it is that curtain up top of my computer is just a window valance on a little tension rod. All my extra business cards and "yucky" stuff that I don't want out is hiding back there. That little yellow thing peeking out is a duck that someone I love gave me years ago and which makes me smile!
Visually Organized People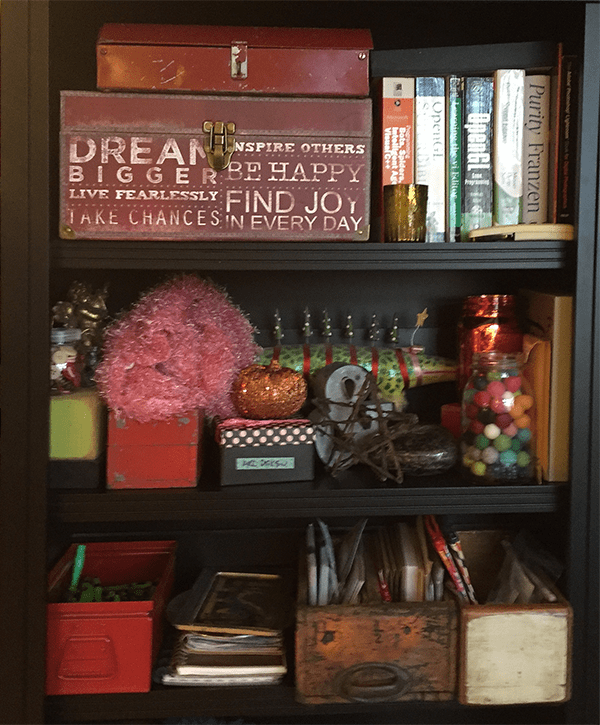 So one of the things that I have struggled with all of my life is that "professional organizers" want to hide all my stuff from me. They want my work to be in folders in neat and tidy drawers, labeled and categorized.
That sounds AWESOME! Unfortunately for me, as soon as you put something away in a drawer it disappears from my life entirely and I never think about it again.
Because of this I have to find creative ways to organize my "stuff" that is clear or open to my view at all times.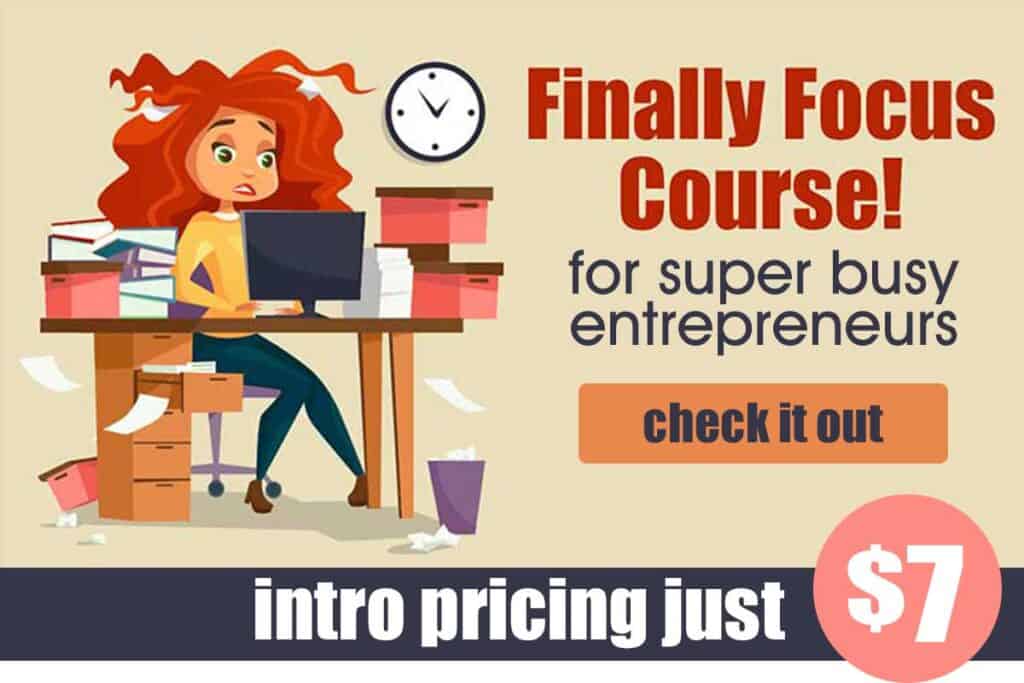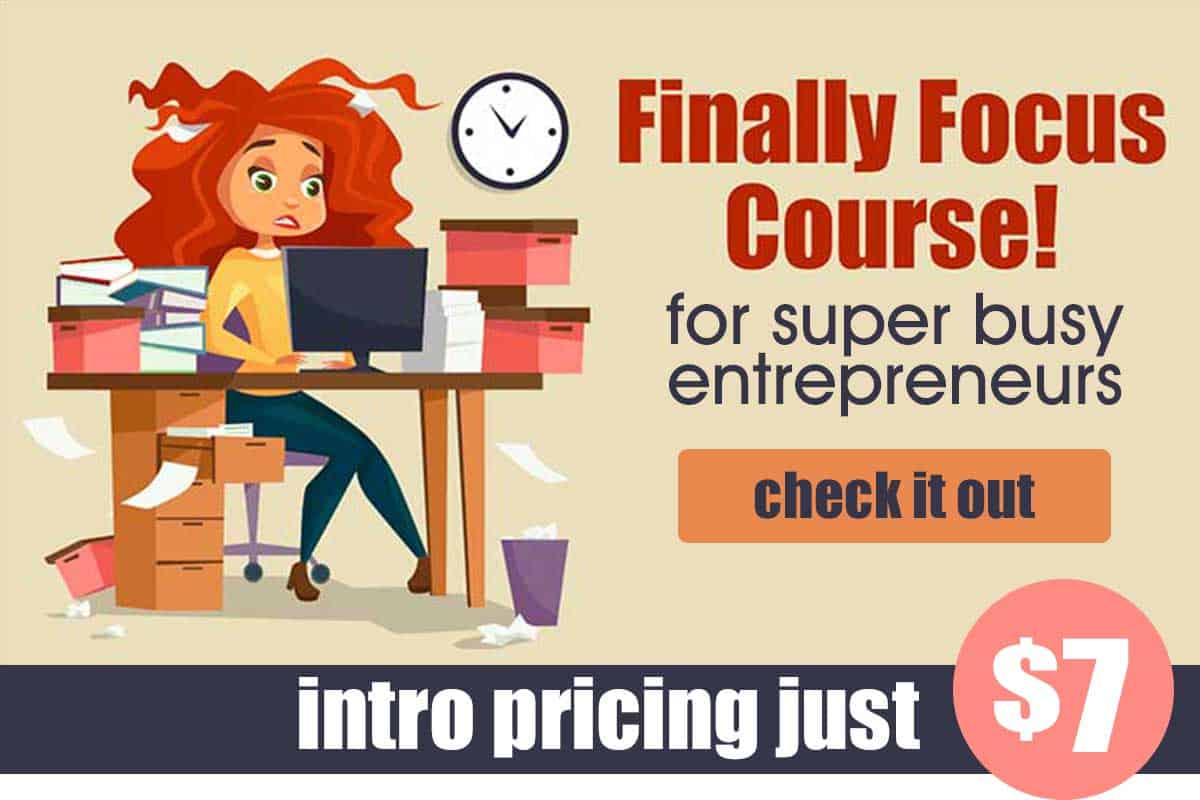 This is my organizing system for my Work Necklaces. At the top is the tool box that has my jewelry making tools, under that is the box that I take for networking and those colored balls are what I use for product photography.
Underneath those two shelves is my stationary station that has my personal notes antique drawer and on the left is my promotional pens area.
I know that it looks a little "jumbly" and who really needs a Christmas alligator in their office space….me! Just being able to see some of these fun things that I love makes me more effective even in my "real" work for clients.
Having everything in a managed chaos means that I can find things, but that they are not tucked away, missing forever.
One of the things that I did to make the connection easier for my brain was all my work necklaces stuff is in red boxes or containers. The top one is an old tool box, the next one a box from Michaels and the the one under the furry pink boa is another old tool box. Just by matching the colors I make an easy association in my mind that they all go together!
Some Tips From My Organizing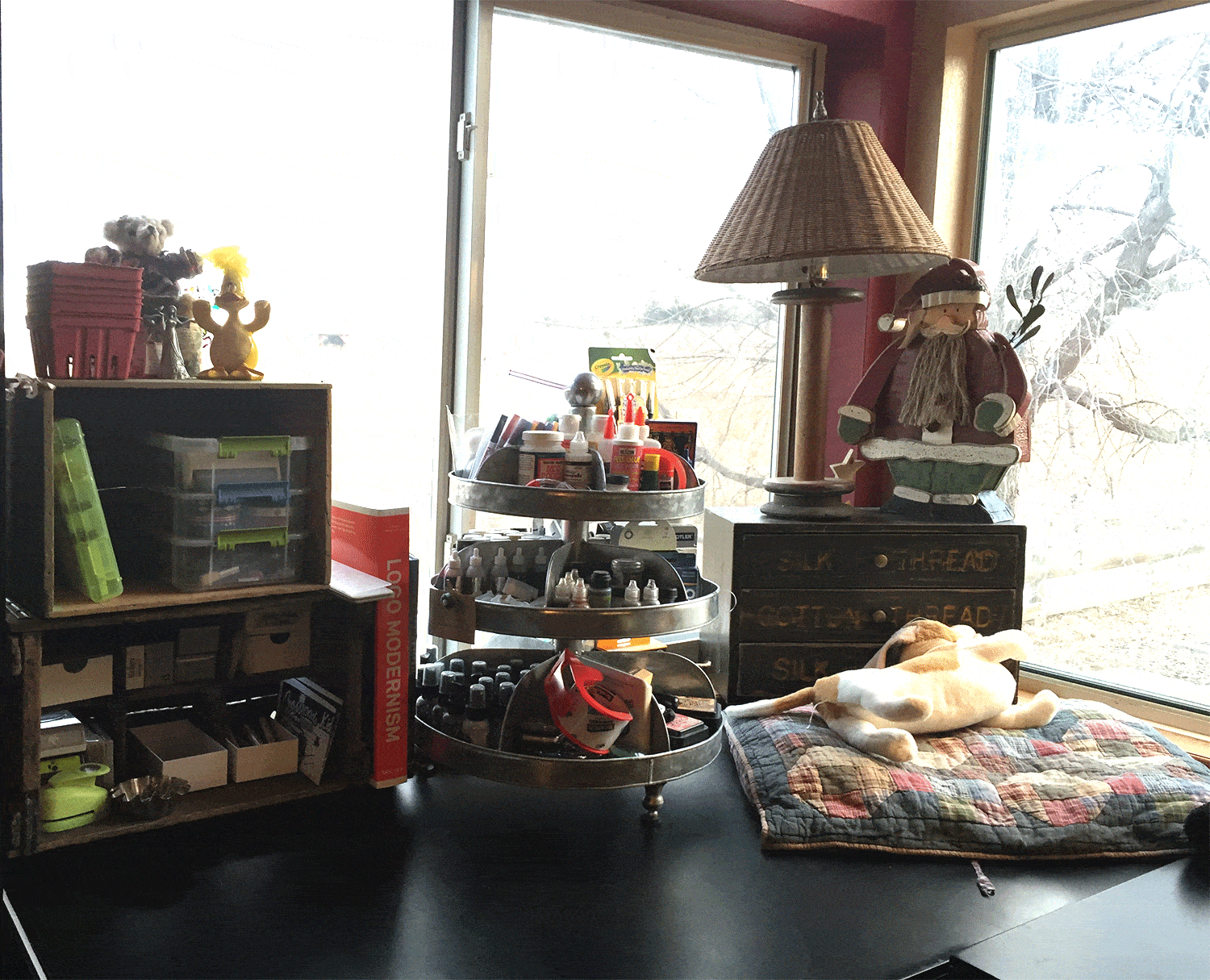 So here is one last peek at my office space. This is the left hand return of my desk and it is a whole other desk table! On the left are antique creates with my punchers and various boxes that I will be decorating eventually. The middle "thing" is a lazy susan style metal organizer where I have all of my paints and stains. And last is a "fake antique" drawer unit that holds my pens and office supplies that I don't use much.
The pillow is because at some point in the day either my dog or cat will jump up and look out the windows. I tried to keep them off and then just gave up and made a spot for them!
My Top Creative Office Organization Tips
1. I will never use those things I keep just because I like them or printed them…
Oh my gosh, the worst part about this process was throwing things away. I had saved a bunch of papers with directions for doing marketing things, cards from my Dad and then just the detritus of life that seems like a great idea to print out or keep or save.
After a while, this physical clutter started reminding me of something else I had recently been working on, my email! When I first started going through my email and ruthlessly eliminating newsletters except from people I love, putting all the sales messages in my "Promotions" tab and effectively reducing my email consumption by about 90%, it was hard letting go. There is a thing in our brain that says that we will be "missing" something or "losing" something by throwing things out or eliminating things.
That is just not true for my "stuff". If I REALLY wanted to read that thing I would have done so at the time. I would have put it in my work notebook and looked at it right away. So rule #1… no more printing out things for later unless I have a specific place or plan for them!
2. It is okay to keep sentimental things as long as they are all corralled in one place.
Rule number two is my Daddy rule. I have to say that I still treasure things that Mom gave me although it has been almost 20 years since she passed away. With that in mind, I love keeping the postcards and letters that my Dad sends me and do not feel even a little bit bad about them!
That said, they have a particular box they go in and are easy to put away and find if I ever need them.
If there is something truly sentimental to you, please feel free to keep it!! BUT, you cannot keep everything. For example, my little guy makes me LOTS of cards that are folded up pieces of paper, sometimes several sheets thick and I LOVE them. But I can't possibly keep them all so I save one every once in a while so I can track his progress as he grows, but not use all my storage space to contain a million pieces of paper.
If you truly would die before throwing away one precious piece of art or your best designs or anything else, get in the habit of taking a picture of it to keep and then throwing away the physical copy!
3. Having a system is vital to your success.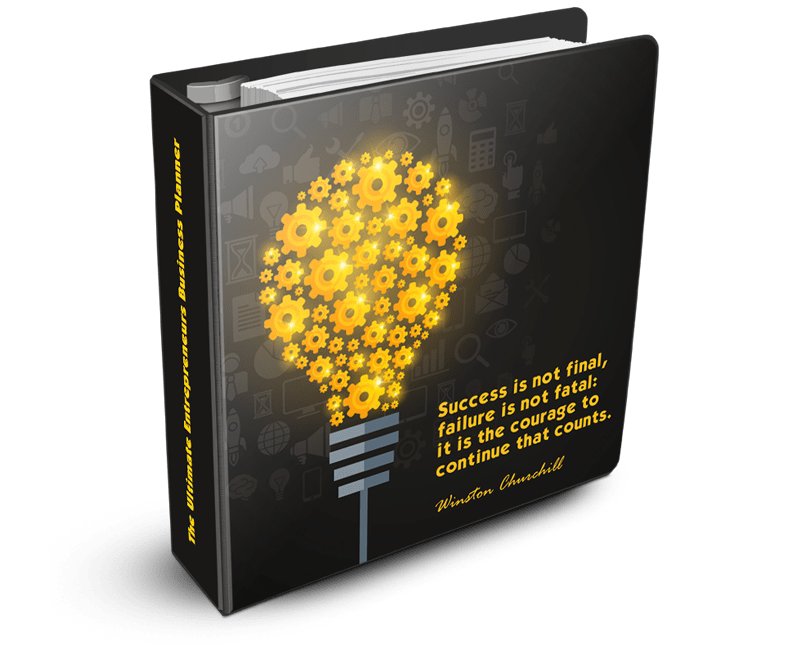 Which leads me to having a system for organizing your life and business. I have my work time and goals organized VERY well using my Effective Entrepreneurs Business Planner System. The cool thing about having your time organized is that you can make everything else fit in more easily!
The one thing about this system for me is that I am not always having to go to a folder or other "organizing system" where my stuff is hidden. Instead I carry everything that is important to my work currently with me all in one place.
Related post: Printable Planner Calendar System For Staples Arc or 3 Ring Binder
For my craft organizing I have found a fun gal called Totally Tiffany who has a plan for how to keep all your papers and "craft stuff" organized and functional. She is very sincere about doing organizing and seems to have set up a structured format for getting all your "bits" in order.
A while ago I got her system and it sort of worked for a little bit, but I don't have a huge area of open space in my office for it, so I modified it some!
4. Your system should work with your style of organizing.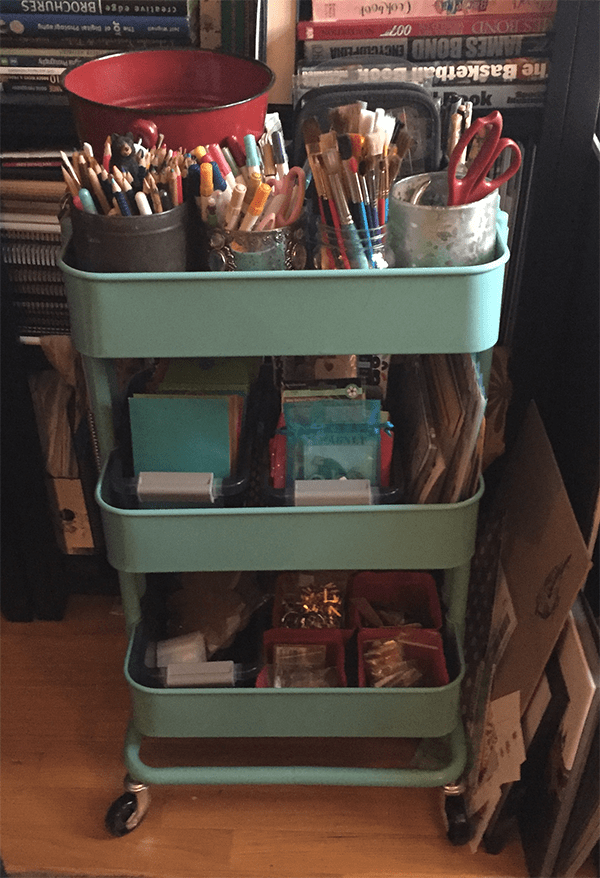 You know your organizing of office papers, training folders or craft bits is working when you can find almost anything easily. It is funny how different everyone's brain works when they are thinking about organizing their office or craft space.
For example, Tiffany says you should organize your craft supplies by color and that DOES NOT work for me. I don't think, "I need a pink flower", I think I need a flower and go look for all my flowers in one place.
Does that mean that I should disregard EVERYTHING she says? NOPE, just take the pieces of what she suggests and use them.
This is my creative Raskog cart from Ikea. The top has all my pens and brushes handy (with that huge red bucket holding my washi tape which I use to create and for my work-work a lot).
The second and third shelves are more scrapbooking and creative "stuff".
5. Use what you have first!
One of the things that we creatives do when we want to get organized is to go out and buy new containers (you KNOW you do this!) That "new car smell" has nothing on the thought that THIS organizing system will work this time for getting your "stuff" in order.
That said, you probably have all the things you need to get your "stuff" in order. You have files and binders and dividers for your office work and baskets, boxes and bags for your craft bits.
A lot of time we get hung up on having the perfect container more than we focus on actually going through and organizing our bits!
6. Take everything out all at once and sort it.
I am no "organizing expert" other than I have read A LOT about organizing over the years as I tried to get my stuff together and the one thing that many experts say is that you have to take everything out so you can see all in one place what all you have.
Thankfully I did NOT take a picture of my craft room / office exploded all over the place..it was TERRIBLE! But it did help a lot. I found all of my notebooks and papers and put them in one pile (put like with like). I found tons of stamps and pulled stuff out from the garage, and got all my containers and dividers in one place.
THEN once I knew what I had and how much space it would take up, I could figure out what would go where. I moved shelves around in my bookcases and got my old crates arranged how they would work best!
I know that I used to try to get one drawer organized and then move on, but then you are rearranging constantly as you find new things to fit in what you already thought was done!
7. Ruthlessly get rid of things you don't need, use or want.
As I said, one of my hardest tasks was throwing things out. For example, I had a bunch of old workbooks that I had jotted things down in. I THOUGHT I would want to reference them in the future, but I have NEVER looked at them beyond a couple of weeks in the past. Things change so much over time that I really would have to think hard to make any of those ideas make sense now.
What I do keep are notes that are organized and have a purpose. Don't save something just because you don't want to have to deal with thinking about it right now.
If it is something that you are on the fence with, scan it and keep the digital copy but throw away the hard copy. It was amazing that I have so much more room now that I have gotten rid of things that I might use "someday".
If you cannot think of a way to organize something or a place to put it, then it probably doesn't have a place in your life right now. Doesn't mean it isn't or wasn't important, but do you really have room to keep it right now?
8. Don't wait until everything is perfect!
Last but not least I want to warn you against "perfection". I did this organizing first because everything had gotten out of hand and second because I was being way less creative because I just didn't know where anything was. That said, I did have to order two paper racks that I could use to keep my big scrapbook pages in order.
Because I didn't have them yet, there was a temptation to just wait until I had everything together all in one place to start. But everything would never have been perfect. I could have waited until I had those racks and then realized I needed special envelopes or acrylic sheets (I DO need those now that I think of it).
Instead I just gathered everything that I needed to use once the racks came in and now I am ready to go when they get here PLUS the rest of the room is all ready done!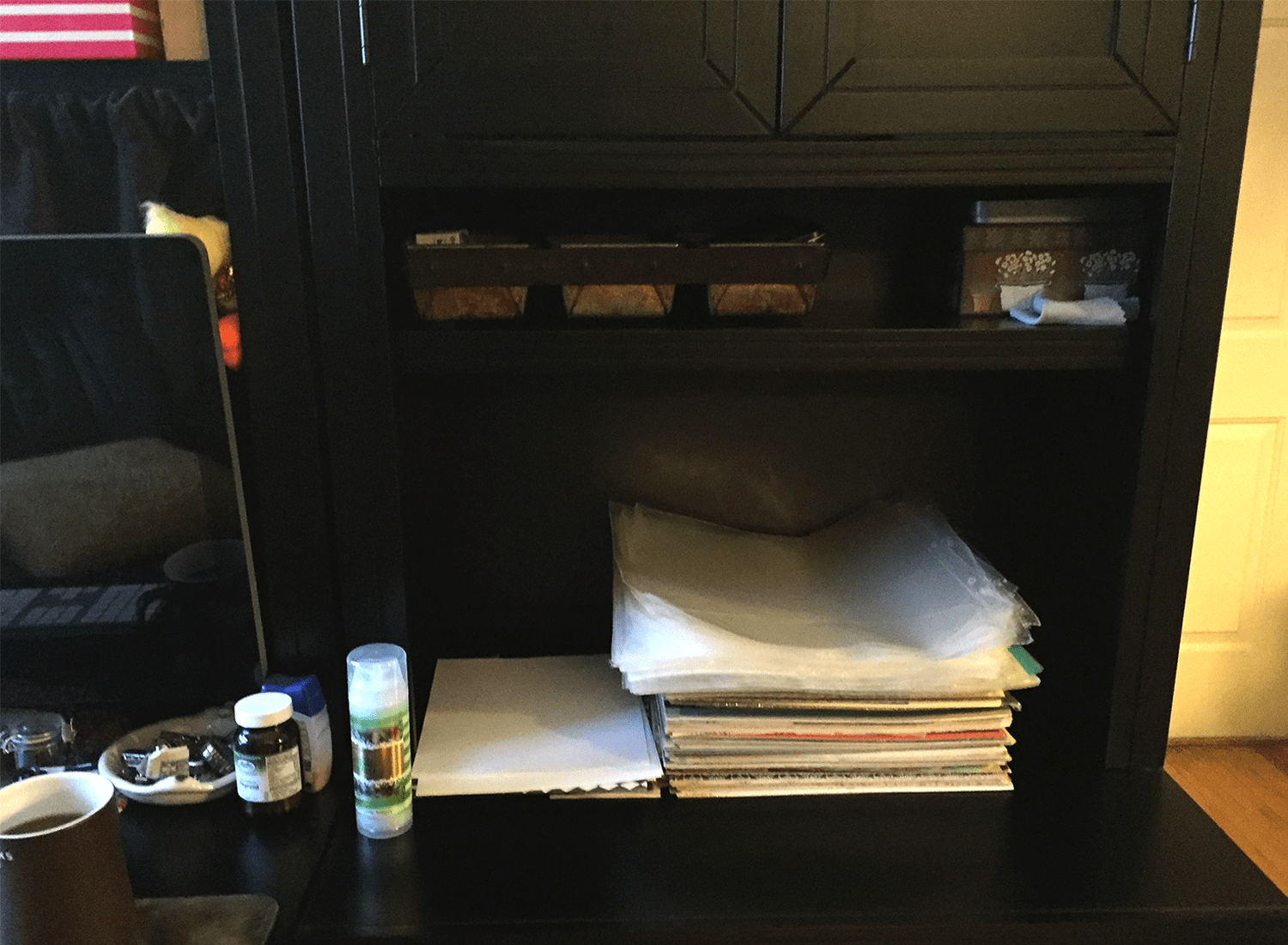 Wrapup
So there you have it, my best home office organization tips and tricks! Being a creative business owner is hard enough without messing yourself up environment-wise. As most of us creatives are also highly visual people, hopefully some of my suggestions will help you stay on track and have a beautiful home office!