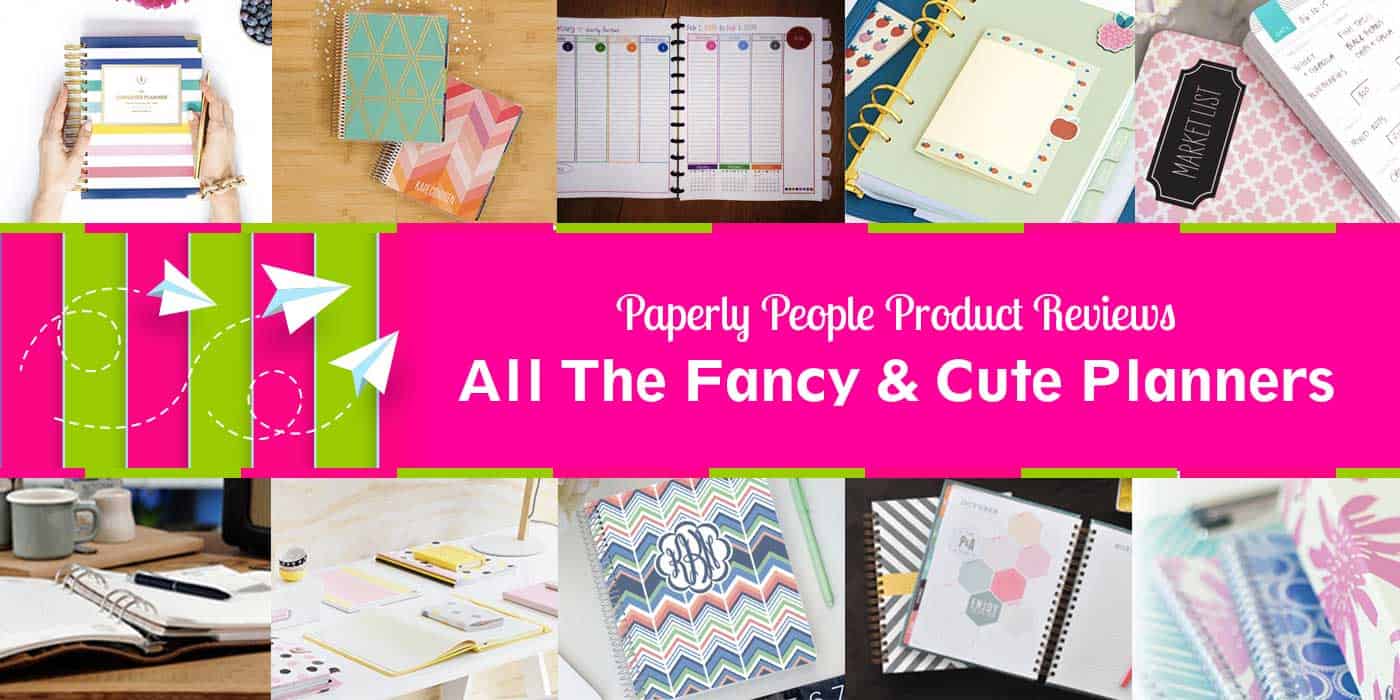 I have a little planner issue (in that I love them all!) I have spent YEARS figuring out which ones will work best for me and my life. If you are looking for a comprehensive overview of ALL the planners out there, you have come to the right place!
I broke them down by four criteria:
Fun factor – This is a combination of cuteness and graphics. I am a huge fan of a pretty planner so that matters to me!
Accessories – If you have a planner but nothing extra to buy, is it really a planner? Okay, I have an accessories problem!
Options – Some of the planners are very structured and some are more flexible, here is a quick overview of your ordering choices!
Cost – There is no price too high for the perfect planner, but for all the other ones, it is nice to know what you will have to shell out to get them!
All The Fancy and Cute Planners
Here are all the fancy and cute planners that I could find on the planet! If you know of others that I missed please let me know on my Contact Us page.
Erin Condren
Fun factor – This is the planner that I use for my family "stuff". I love that it is half planner and half journal. I print out pictures from my Instagram and put them on the date that they were taken.
Accessories – I LOVE that there are so many people making extra things for my Erin Condren calendar. I have gotten pre-cut washi tape, a gorgeous cover and many other add-ons for the Erin Condren Life Planner.
Options – Just this year EC added a horizontal layout to their classic vertical printouts. There are a MILLION different covers…okay maybe not a million but A LOT of different covers to choose from including uploading your own. You can also choose from plain silver, gold or rose gold bindings.
Cost – On the higher end of the basic planner cost range… $50-75 for the starter planner.
>> Made in the USA
Erin Condren Site Link (aff link…save $10 off your first order) | Video

Plum Paper
Oh, oh, oh this may be my next year's planner. I love that you can customize so much of this one!
Fun factor – These are just as cute as a bug! A big note though is that the silver coil on this one is said to be less durable than the Erin Condren ones.
Accessories – There are lots of extra "goodies" available for this planner.
Options – OMG there are tons of options for this planner including 4 page setups, blog planning pages, to do lists, contact lists, bill trackers, cleaning charts and even a MLM addon.
Cost – Mid priced starting at $31 not counting the addons. My addons would be about twenty bucks which gets it to Erin Condren pricing…but with the Plum I have all kinds of extra pages that are tailored to what I need.
>> Made in the USA
Plum Planner Site Link | Video
kikki.K
Fun factor – Not cute at all inside. Much like the Filofax insides.
Accessories – This are not a ton of different use made accessories for this one.
Options – They are "get them as they are" planners. In addition they are not coil bound, instead they are like a book with a normal binding.
Cost – $65-175 due to leather planners
kikki.K Site Link | Video
[shock_spots id="268″]
Filofax
Fun factor – I am not sure I feel like these are as fun as some of the "girly calendars" although they do have some new cuter covers than I have seen in the past.
Accessories – There are scads of accessories provided by the company in addition to printables done by random people!
Options – You buy the inserts for this organizer separately so you can customize it any way you like.
Cost – These start out okay and become some of the priciest due to leather covers $40-150.
Filofax Site Link | Video
inkWELL Press
Fun factor – Seems to have some neat extra bits. The site is locked right now so I can't really see all the options.
Accessories – There are much fewer options for user generated accessories than there are for some of the other calendars.
Options – You can get either horizontal or vertical setup and tons of cover options. That said the coils look like they might not be as strong as some of the other ones reviewed above.
Cost – $54, it seems like an additionally pages added would be through downloads and you printing it out!
>> Made in the USA
inkWELL Site Link | Video
Additional Planners

(Visited 249 times, 2 visits today)